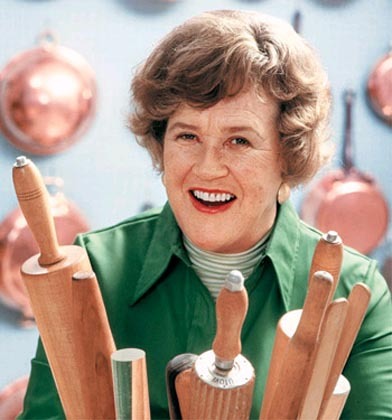 Julia would be thrilled!
The winner of the Blendtec blender in honor of Julia's 99th birthday is Andrea Meyers with her comment on August 5. It was chosen at random, but it also happens to be a lovely comment:
I love Julia Child because through her I learned to make chocolate mousse, French onion soup, French bread, and steak au poivre. I never watched her show because back then I thought cooking like that was too hard, and it wasn't until I started reading her cookbooks that I realized I could do it. So thank you Julia!
Andrea – please email us at ourapronstrings[at]gmail[dot]com sometime in the next three days with your mailing address and we will send this amazing machine off to you!
And as a bonus, because we love our readers and enjoyed the comments so much, a two-volume set of Mastering the Art of French Cooking will be sent to the authors of our top three comments (there were many others, too, so it was a close one):
Elita on August 3: [email us!]
I used to love to watch Julia & Jacques when I was younger. They had such a fabulous chemistry and there was always something hilarious happening. Once they were roasting a chicken and Julia was telling him to wash it and he was like, "No, washing it will dry it out" and she was all, "But there's bacteria crawling all over it!" and he laughed and said, "The chicken is going into a 400 degree oven for hours. Any bacteria that make it deserve to live."
HA!  True that. True that.
Then, to Kelley Fielder for her choice of a great Julia bon mot on August 13th:
"The best way to execute French cooking is to get good and loaded and whack the hell out of a chicken. Bon appétit. "—  Julia Child
I used love watching Julia whack apart a chicken with my mom back in the day . . . 
And finally, Desiree O'Clair on August 15: [email us!]
When I was a kid, my father would watch Julia Child's show with me. When I was in high school, he would let me use his precious copy of Mastering the Art to make dishes for my French class. He once drove me to the next town to purchase a bottle of orange liqueur so that I could make her orange mousse. I remember how he would hide the cookbook, just as company arrived for dinner. Dad is gone now, but I have his Mastering The Art cookbooks. I hope there is bouef bourguignon in heaven.
So, Apron Strings fans – Thank you for your love and support and keep coming back for more fabulous food and giveaways soon!
— Donna and Anne